Which Wood Stove?
Prostove is completely independent from any stove manufacturer, so our views are completely unbiased and the advice we give is brutally honest, there is no written rule which is the best Stove for you as all situations are different and we will recommend three of four manufacturers which will suit you, and then its down to your personal choice which stove you like the look of. 
Why Wood?
Wood is Carbon Neutral in its energy footprint. Trees absorb carbon dioxide as they grow and is released when they burn, of which in turn is absorbed again by younger growing trees. Because of this, wood-burning is Carbon Neutral !!
These are our Top current favourite stoves
This list is from feedback we get from our customers and engineers of which Stoves install well, operate well and are trouble free: 
1. Dik Geurts Stoves.
After nearly 9 years as our best seller The Dru 44 has been knocked of the top by the Dik Geurts Ivar 5 Low RRP £1255 inc vat. ( Call us for Competitive prices)
It Ticks every box, 5 kw, Defra approved, and looks great with a massive screen. The multifuel kit is and extra £213inc vat. We think The Dik Geurts stoves are top end stoves but medium ranged in price, which is why they are so popular. Prostove are not alone in thinking this is the BEST 5kw Stove on the market today, and it really is!!!
Ivar 5 Low
RRP £1375 inc vat (phone for a competitive quote)
Ivar 5 High
RRP £1245.83 inc vat (phone for a competitive quote)
Ivar 5 Store
RRP £1600 inc vat (phone for a competitive quote)
2.Dru Stoves  
The Dru 44 Multi fuel stove is a perfect cross between contemporary and traditional stove. Although it has been knocked of the No 1 spot by the Ivar 5 low, it's still a great little stove. I still think the Dru 64 has it all, giving a 9kw rating with beautiful lines, in the last 6 months Dru 44 have sold very well, but as a 5kw stove you would expect to sell more than the Dru 64 9kw stove. The last few Dru 64 installations have gone into Cottages that don't have modern insulation, hence always cold and hard to heat up, this 64 does this so well, its side loading door is so useful. All that is needed is a separate air source, not a problem.
Dru stoves are very  reliable, have a loyal following, solidly made from cast iron and you really do get a lot of cast iron for your money. It has the right balance of what is required and perfect for the j reg  regulations, We think the style has the perfect balance between contemporary and modern looks. They are certified to stand on a 12mm Hearth plate, the Dru 44 is 5kw nominal output, meaning a separate air source is not compulsory.  Dru Stoves are built to last and built to burn: use the right wood and you should be able to run this stove 24 hours a day without a problem.
We a massive fans of Dru stoves, they give a great back up service, and understandably are one of our favorites.
Dru44 £1085 inc vat   (phone for a competitive quote)
Dru 64  RRP£1885 inc vat (phone for a competitive quote)
Dru 78   RRP£2095 inc vat (phone for a competitive quote)
3. Parkray Aspect Stoves
The Aspect 4 and 5 are new from Hunter stoves, getting great reviews from customers, Hunter are a local firm in Exeter who do an excellent job making stoves the range is massive and super competitive on prices. Check them out. https://www.hunterstoves.co.uk/Aspect-5
Aspect 5 RRP£949 inc vat (phone for a competitive quote)
Aspect 4 RRP£899 inc vat (phone for a competitive quote)
4. Chilli Penguin stoves.
The last 6 Months the Brilliant Chilli Penguin Woody 5kw and the Larger Stove, Penguin 8, have flown out and have risen to no 4 on the Prostove Which stoves. Check them out!!!!  http://www.chillipenguin.co.uk/our-story/
Woody 5 RRP £1249 inc vat.  –  Plinth £220 inc vat  (phone for a competitive quote)
5. Salamander Hobbit. 
The Salamander Hobbit has gone from 11  to 5 on our charts, mainly because the are the most characterful small stove on the market and brilliantly made, One fault they have is, if they go into a small fire place, a height of 150mm is required above the stove to access the secondary air source lever at the back, if not we make a lever rod to access the control lever itself. Salamander is a great Company with  a 1st class back up service. If you want a small stove these are one of the best smallest of stoves we know about!!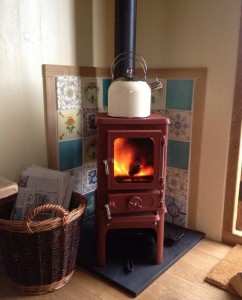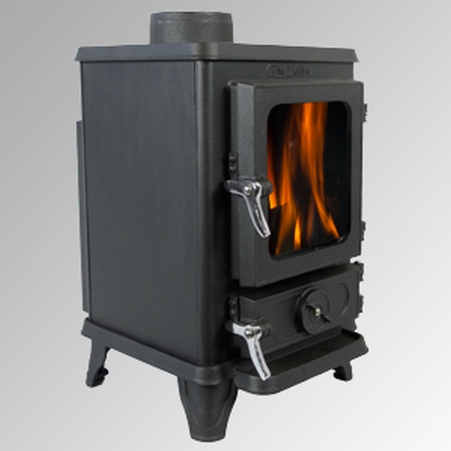 Salamander Hobbitt S/E 4kw RRP £564 inc vat . (phone for a competitive quote)
Non S/E RRP £495 inc vat (phone for a competitive quote)
6. Clearview Stoves
We install quite a few Clearview stoves and although we are not main dealers for Clearview, they are brilliantly made stoves (although very pricey) and have been around for ever, have a very very loyal following we cant ignore them, they are our new No6. We still supply them with good discounts, The Pioneer 400p is our Clearview favourite.
Clearveiw 400p from RRP£1182 inc vat (phone for a competitive quote)
7. 
Termatech Stoves
Now our No7 in sales, Termatech stoves are Modern and Contemporary, great value and beautiful, The TT40 with Woodstore is going to be a best seller if it keeps selling the way it is. Its technology is 2nd to none, they are fantastic for Wooden floors and are allowed to stand on a glass hearth. Take a look at them you will be blown away. Check the Termatech website out… http://www.termatech.co.uk/
TT20 Streamline 5kw RRP £1189 inc vat (phone for a competitive quote)
TT20 Streamline R 5kw RRP £1101 inc vat (phone for a competitive quote)
Termatech TT22 7.5kw  RRP £1928 inc vat (phone for a competitive quote)
8. Saltfire
Saltfire are our no8 because they have always offered good value stoves. We fit lots of Saltfire stoves and have very little trouble, they do the job. They are constantly upgrading there range, recently they have recently launced the ST-X range, and these tick every box, apart from a woodstore!!, but I am sure thats on its way. They are Defra approved, so well made, they can use a 125mm liner and stand on a 12mm Hearth. Looks wise there are Top draw.
Saltfire ST-X  Range
ST-X4 RRP £599 inc vat (phone for a competitive quote)
ST-X5 RRP £699 inc vat (phone for a competitive quote)
ST-X8 RRP £799 inc vat (phone for a competitive quote)
9. Aga Stoves
The Aga name speaks for itself, the Aga range are all brilliantly made stoves, we really like 3 models for their looks, we dont think Aga market these models well enough. The Lawley is so beautiful it should be flying of the shelves.  The Wenlock and the Ludlow both come in smoke exempt versions and give out plenty of heat. The Ludlow is one of the best looking small stoves on the market in our opinion, ….Brilliant feedback from customers!!
The Lawley
The Ludlow
The Little Wenlock Classic
10. Esse
Esse have been making stoves since 1854  with a comprehensive range of traditional, freestanding and insert stoves. Esse ranges are equally well known and are regarded as some of the best solid fuel cookers on the market today. We love the big glass effect. The Ironheart woodstove range cooker is awesome…best Range cooker on the market by miles….you get what you pay for……..quality!!
The Esse Ironheart……A Masterpiece!!!
11. Jotul
Jotul Stoves (Jotul stoves have never been cheap but have always been known for their high quality, good looks and very efficient wood burning) Slightly dated in design but they do work well………..Well I apologise for the slightly dated comments, look what Jotul have added to their range, they now have the looks and style, and with the Jotul name sales in Jotuls stoves will increase!!
The F305 Series
The F 370 series.
The 480 series
F3 series